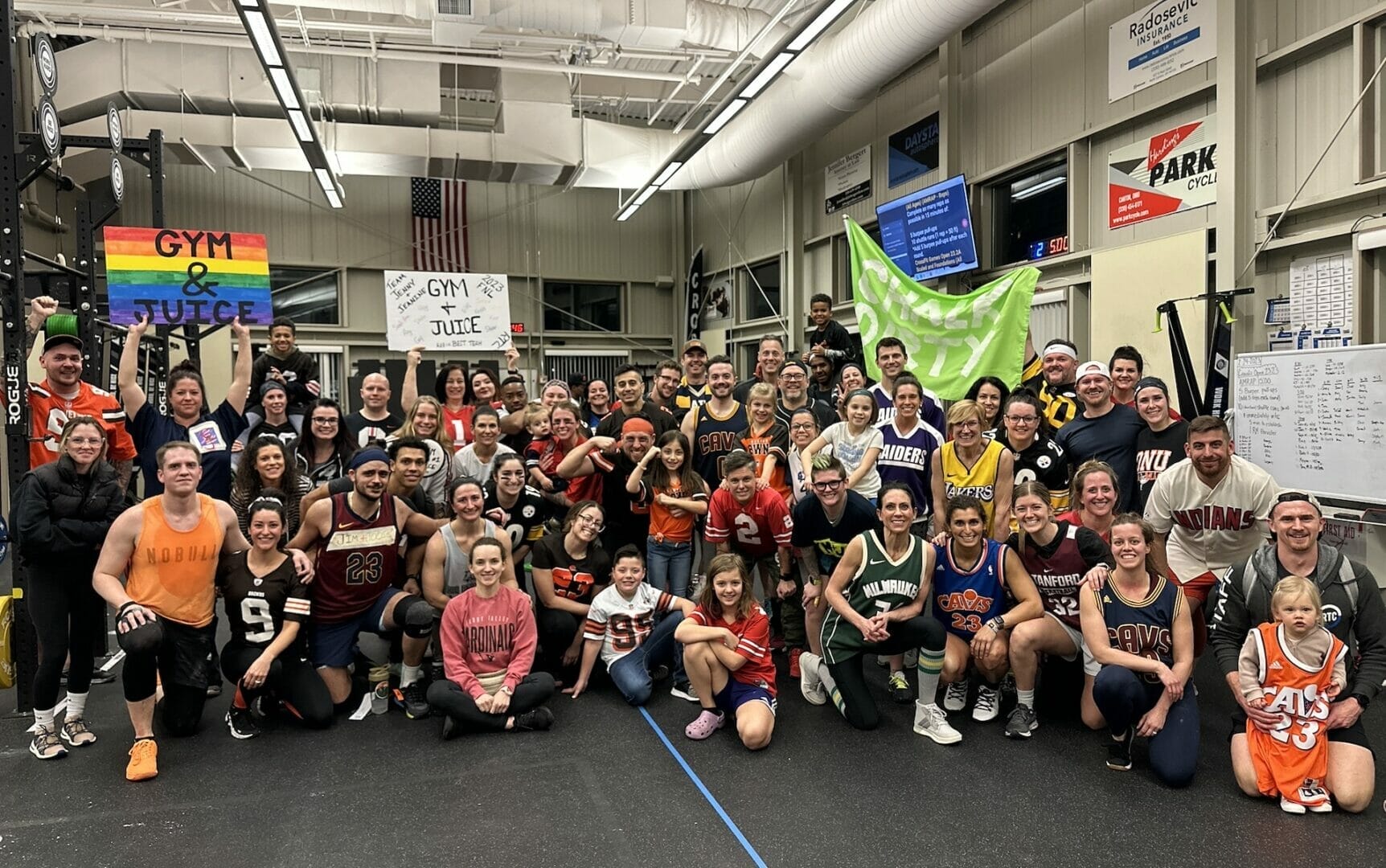 CrossFit Open 23.2 is…another surprise!
Well we certainly can't say the 2023 Open is boring!!! Week Two was a unique blend of new and old. With the introduction of 2 new movements for the first time in Open history – burpee pull ups and shuttle runs – followed up with a max thruster under fatigue! Oh my!
Week 2 Top Performances
23.2A Top 3 RX Women: Alex Rundell, Kelsey Schlicht, Coach Jenny
23.2A Top 3 RX Men: Coach George, Jedd Schlicht, and a tie for 3rd between Coach Gavin & Coach Nate
23.2A Top 3 SCALED Women: Michelle Hout, Jerrica Thomas, Sarah Fister
23.2A Top 3 SCALED Men: Troy Croasmun, Tom Colston, Jeff Snyder
23.2B Top 3 Women: Kelsey Schlicht, Coach Jenny, and a 3-way tie for 3rd between Michelle Parker, Jenna Reynolds, & Olivia Ferrante
23.2B Top 3 Men: Coach Gavin, Coach Romero, Devin Booker
Once again, we saw some great showings on the RTC leaderboard with some first timers and newbies making an appearance. And for the first time ever, we saw the most RX scores ever in RTC history!
Coach Nate made his way on the Men's RX leaderboard after an impressive repeat improvement! And Coach Romero also made his first appearance on an open leaderboard this week with a STRONG lift!
Of course, we can't say enough about our coaches, who continue to top the RX leaderboards.
And let's not ignore that we have 6 ENTIRELY new names on the scaled leaderboards this week!
Plus first time leaderboard appearances for Devin Booker, Michelle Parker, Jenna Reynolds, & Olivia Ferrante thanks to their incredible feats of strength!
Honorable Mentions:
Mandy Synder RAN the shuttle runs….something she hasn't done since high school!
Kevin Irwin set another goal and came back for an improved repeat that got him to his target.
Anthony Szczepaniak PR'd his thruster TWICE in one workout!
Kelsey Schlicht & Coach Jenny both hit Sunday repeats and improved their 23.2A scores!
Other First Times & PRs
THRUSTER PRS
Anthony S, Jon Miller, Taylor O, Shane P, Mandi S, Jeff S, Sarah F, Kenzie S, Ang Y, Lauren O, Brittany S, Victoria C, Michelle H, Steph I, Aaron C, Jerrica T, Kim B
First RX OPEN WODS
Ang Y, Victoria C, Aaron C, Maddie B
Spirit of the Open Mentions:
Once again the Synders were in the house to get loud on Sunday Showdown – in different jerseys after 5 outfit changes on Friday Night!!
Sarah Fister also made the trip down to support Sunday Showdown! And that is long drive for her!
Kevin Jones, Jon Miller, Hillary Buckler and Andrea Harris all came back for FNL to show support despite hitting the workout earlier in the day!
OVERALL BEST DRESSED FOLKS:
The Snyders – do they even own clothes that aren't jerseys?!?!
Lauren Ozanich coming in hot with a full warmup suit and jersey!
Stacie & Chloe Smith were in the house jersey'd up with signage!
All the kids were here for FNL IN JERSEYS!
Other Noteables:
Over 80 RTC People Completed 23.2 between Friday and Monday. 
Over 50 people did the workout RX!
Redos saw improved scores.
We saw less smiles during the workout, a lineup of NEW epic ugly lifting faces, a record number of PRs, and the energy was incredible and the gym was certainly buzzing! Seems you all are a crazier breed than I already thought! 
THURSDAY NIGHT LIGHTS
Our CrossFit Kids also tackled 23.2 during Thursday Night Lights. Here are some highlights:
16 kids did the WOD.

ALL worked SOOOOOO hard and had great attitudes through a tough physical and mental challenge in 23.2!
TEAM RECAP
Week Two Points
Team Jenny & Jeanine aka GYM & JUICE: 91 pts
Team Gavin & Alex aka CHALK DIRTY TO ME 2.0: 91 pts
Team Chris & Jenna aka HIGH SPIRITS, LOW EXPECTATIONS: 79 pts
Team George & Romero aka FLEX APPEAL: 76 pts
Team Steph, Nate, & Colin aka CAN YOU SAY THAT AGAIN, ALLIE: 68 pts
Week Two of the 2023 RTC OPEN was another close one!
Team GYM & JUICE ran away with the best team dressed team award this week, giving them the slight edge over our other teams. They ALL had jerseys AND they rebranded them to be GYM & JUICE jerseys! With a small OVERALL lead going into week 3, can they hang on to take the RTC Cup in 2023???
And Team CHALK DIRTY TO ME 2.0 took the overall spirit award this week with their marching band showing. Enough said.
Team FLEX APPEAL and Team HIGH SPIRITS, LOW EXPECTATIONS are in a TIGHT race for 3rd overall as of now. They may not have taken home either of the big awards this week, but they have stayed close with a consistent showing of participation and judging points over the entire weekend once again!
And let's not forget about Team CAN YOU SAY THAT AGAIN, ALLIE. Let's call this a building year for them. The rookie season can be hard, but they are giving it their ALL!
OVERALL TEAM STANDINGS AFTER WEEK 2
(including pre-open points, but NOT including the Impact Award Nominations or Week 2 Challenge Points already submitted – keep doing these by the way!):
GYM & JUICE: 191 pts
CHALK DIRTY TO ME 2.0: 180 pts
HIGH SPIRITS, LOW EXPECTATIONS: 168 pts
FLEX APPEAL: 165 pts
CAN YOU SAY THAT AGAIN, ALLIE: 154 pts
There may be gaps between 1st and 5th, but the reality is the race for all 3 podium spots is TIGHT. Who will end up on top, who will take 3rd, and who will be left off the podium this year?! It is still anyone's trophy, folks. GAME ON TEAMS!
What to expect this week:
As with every open, to guess what's coming next is like trying to predict the weather in our great State.
However, we can guarantee that the carnage will continue!
Be sure to tune into games.crossfit.com at 3PM Thursday or to Wodify at 8PM to see what's in store for this upcoming Friday.
And just for fun….I will make my last prediction of 2023: a "windows" workout with progressive handstand skills along the way (for OPEN OG's, you remember the windows to complete "X" then continue on….until failure).
See you guys on Friday!